About Us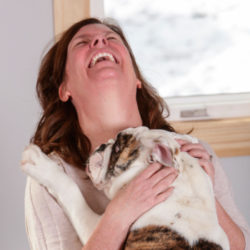 Heather was born and raised in Vancouver, British Columbia in a household full of cats and dogs. In 1988, Heather moved to Toronto, Ontario to start her career. Her love affair with animals continued throughout her early adult years, training her Redbone Coonhound (Murphy) in agility and raising a Champion German Shorthaired Pointer (Scout). In 2000, Heather joined the Iams Pet Food Company and deepened her understanding of animal physiology and nutrition. Now living in West Toronto with her husband, daughter and dog (Lincoln), Heather has left the corporate world to pursue a career in animal wellness through massage.
Heather was first introduced to the benefits of canine rehabilitation and massage when her 6 year old Pointer (Blue) experienced a serious neurological issue following surgery. Blue's paw righting reflex was compromised, and she was knuckling. The condition took many weeks to improve, but eventually with regular exercise and support Blue gained full mobility.
Heather is a graduate of the Northwest School of Animal Massage in Washington State, where she studied Anatomy, Physiology, Kinesiology, Gait and Movement Analysis and First Aid under the school's founder, Lola Michelin.
Heather is a long standing supporter of the Toronto Humane Society and volunteer at the Etobicoke Humane Society.
Heather founded Flow Canine Wellness in West Toronto in 2016 and provides mobile canine massage therapy services.